One of the privileges you get once you earn your private pilot license is the ability to take passengers. While still a student, you can only fly solo, with an instructor, or with an examiner. After having my license (certificate, if you must) for almost a month, I managed to convince someone to be my first victim... err, passenger. My Dad had agreed to go with me, and it is only fitting, since it is his fault I started doing all this, anyway. When I was a kid, he would take me to airports, EAA meeting, Sun N Fun, etc. He even paid for my first lessons when I was 13 years old, and bought me my first logbook (which I am still using today).

Anyway, the basic plan was I would fly over to Ft. Myers and pick him up, and then we would fly somewhere for lunch. Since my basic goal is to try and fly to as many different airports as possible, I decided we would go to Everglades City, since I heard that was an interesting place to go get something to eat.

I have to admit, flying into Ft. Myers had me a little nervous, since I hadn't flown into an airport with a control tower since the last time I was here, during my solo cross country. As it turned out, it was exactly as I had remembered it, and it was no big deal. It took me a little longer to get in the air than I had originally estimated, so it was almost noon by the time I got to Ft. Myers. Then we spent sometime on the ramp looking at my plane. This was the first time Dad had seen it in person since I bought it, so he was interested in seeing it in detail. We eventually got airborne again and head to Everglades City. It is a short 45 minute flight from Ft. Myers, and we arrived a little after 1 pm.

There were about a half a dozen planes parked off the taxiway when we arrived. We went into the FBO and asked the people working there where to go eat. One of the men there said he could call a restaurant, and the owner would drive down to the airport and pick us up in his old Cadillac. We only had to wait a few minutes before the car was there waiting for us.

He took us to a seafood restaurant on the water in "town". It is a very small place, and you can drive completely through it in about 10 minutes. Here is Dad at the table while we waited for our food.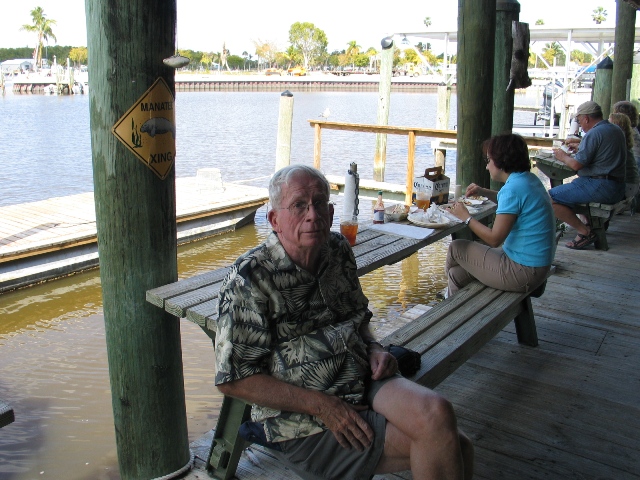 After eating lunch, we found the owner and he took us back to the airport, after giving us a brief tour of Everglades City. By this time, everyone who had gotten there before us for lunch had left, so my plane was all alone on the ramp.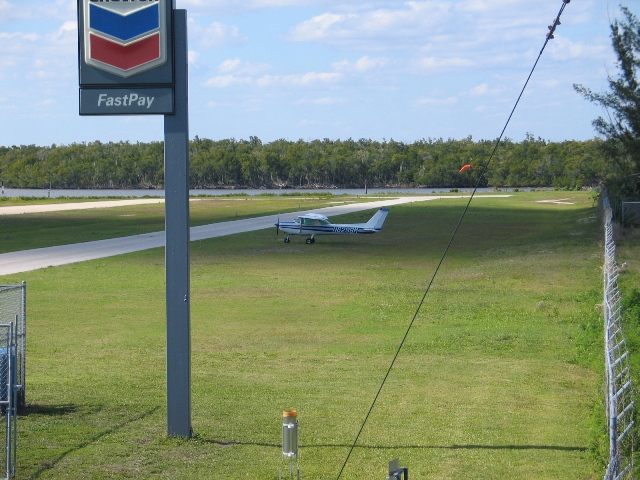 We took off and headed back to Page Field, where I dropped Dad off and headed home. All in all, a pretty successful adventure with my first passenger!